Slot machine games are designed to be interesting and fun to whoever is playing them irrespective of their age or status. However, not all slot machines are created equal. Some are more exciting to play than others while some are more rewarding. Our focus in this piece is the Diamond fiesta slot machine game. Diamond fiesta is a holiday-themed slot machine game. RealTime gaming got the inspiration for the game from Day of the Dead, a Mexican holiday that is usually celebrated in November to celebrate the dead. People with Mexican heritage all over the world celebrate the Day of the Dead with food, drinks, and other rituals. They use the holiday as an opportunity to support all their dead loved ones as they take the last step of their spiritual journey.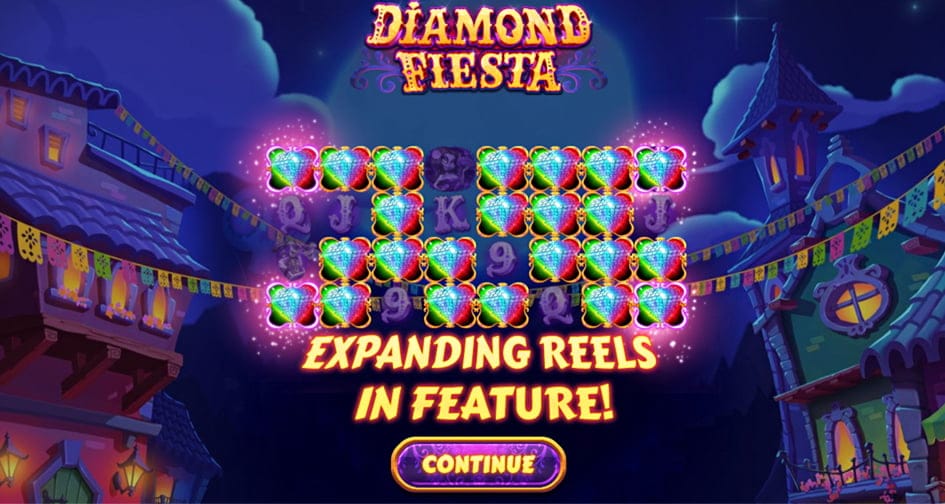 Theme and Design
The Day of the Dead celebration has pre-Columbian roots that can be traced back to 2000, to 3000 years ago. It is a three-day-long celebration that involves different rituals. The Diamond fiesta slot is as colorful as the actual Day of the Dead celebration. All the symbols and background designs are theme-appropriate even if it's a cartoon-style design. You'll find musical instruments, skeletons, mariachi, female dancers, and chili peppers. These are things you'll usually find on the Day of the Dead celebration. The graphics are amazing and so is the user interface and design. It's a mixture of horror and fun but it isn't too scary so you can play it any time of the day even if you're usually scared of horror themes.
Features of Diamond Fiesta Slot
The Diamond Fiesta slot machine game has 5 reels like most modern-day slot games. The 5×3 reels come with 50 active pay lines for first-time players. The more you play, the more the reels expand. You can get the 8×4 symbols if you're fortunate. Expanding reels are amazing so this is one of the best features of the Diamond Fiesta slot machine game. However, that's not the only special thing about the game. There are other great features like the Jackpot Diamond, free spins, wilds and scatters. Each category comes with unique benefits but they all boost your chances of winning fantastic prizes. As expected, there are some traditional slot symbols on the reels as well but the main ones that boost your chances are based on the central theme of the game. The Diamond Fiesta slot machine game has medium volatility. So, the rewards may not be incredibly high but the chances of getting paid are not bad. You have a higher chance of getting rewarded with a game with medium volatility than a game with low volatility but the low volatility games usually have the highest jackpots. The RTP of the game is 96%. This means your chances of getting paid are high. Most games by Real-Time Gaming have a high RTP rate.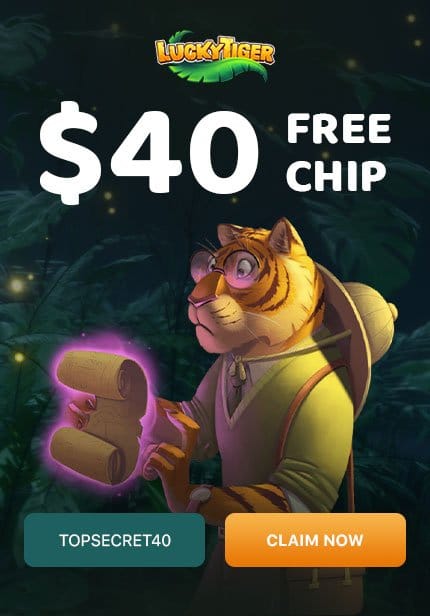 Diamond Fiesta Betting and Prizes
Diamond Fiesta offers the kind of versatility you will hardly see in other slot machines. The minimum betting amount is $0.50 and the maximum amount is $250. So, it doesn't matter how much you have, you can enjoy this game. Even if Diamond Fiesta has 50 active pay lines, you can get up to 1000 times your initial stake. With the maximum bet at $250, we are talking about hitting the jackpot at $250,000. This may not be the highest jackpot in the slot machine world but it is a good start for a medium volatility slot machine game. To make the most out of your bets, consider going die higher denominations. Apart from bringing in higher rewards, statistics show that higher denominations are also more likely to pay you than lower ones. Just make sure you don't spend more than your budget because the risk attached to these bets are also higher.
Diamond Fiesta Symbols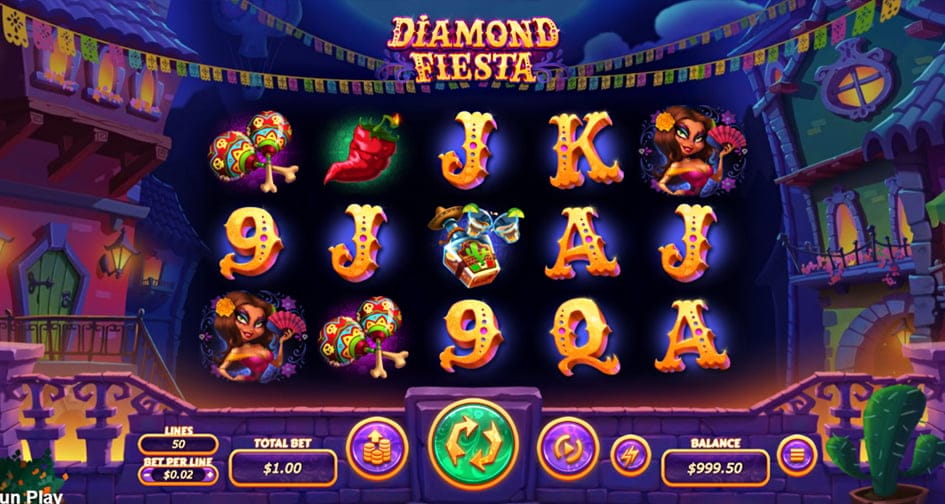 Senor Skeleton wilds can be added to other combos on the reels to give you an awesome winning combination. It can also appear as a substitute for regular symbols for even greater rewards. The Senor Skeleton wild can appear on all but one reel. So it is better than slot machines that can only have wilds on 2 to 3 reels at a time. While the wilds can be used to replace common symbols, it can't be used to replace other features on the reels. The Diamond symbols are amazing because they can unlock the Jackpot Diamond bonus. This Jackpot Diamond bonus unlocks a re-spin feature but it can only be activated when the Diamond symbol is scattered at least 6 times on the reels. This is what happens when the reels expand. If they appear on four corners out of the 5 reels, a 6th reel will appear on the game. The number will keep increasing until you get to the highest which is 8×4 reels. Apart from the re-spin feature you can get when the Diamond symbols appear, you can also get sticky Diamonds and another feature that allows you to get more Diamonds. By the time the re-spin ends, you will get paid for all the Diamond symbols that appeared in the reels. The more Diamonds you get, the higher your reward.
The scatter symbols are skulls. With this symbol, you can get up to 6 free spins and there is no limit to how many times you can trigger it in one game. If the skulls, Senor Skeleton, and Diamond symbols appear on the reels at the same time you're in for a great win.
How to Play Diamond Fiesta
Playing the Diamond Fiesta slot machine game is as easy as ABC. You don't need to have any special skills to enjoy the game. All you need is an Internet-enabled device and a strong Internet connection. It doesn't matter if it's a phone, laptop, or tablet. Since it is an online game, you don't need to be in a land-based casino to enjoy it. You can enjoy the game in the comfort of your home. The game is self-explanatory. You can access the paytable and any other part of the game with ease. The paytable contains details about all the symbols. This will help you to manage your expectations when you're playing. The method of payment will depend on the online casino in question. Some online casinos allow you to pay with debit cards and credit cards, some allow you to pay with PayPal, and some others offer a range of different payment options for maximum versatility.
Before you put your credit information in any online casino, make sure that the casino is trustworthy. It's easy to get cut up with scammers online if you're not careful. So, conduct thorough research before you register on any online casino. Most casinos allow you to build a bankroll online. This is a good way to manage your money. All you have to do is deposit a certain amount into the casino and set some aside for active bets. You can deposit enough money for a day, a week, or two weeks depending on your level of self-control and your frequency of playing. For new gamblers, we recommend daily or bi-weekly budgets. Long time gamblers who have developed self-control can deposit weekly and even monthly budgets on online casinos.
Where to Play Diamond Fiesta
As stated above, you need to be careful where you play Diamond Fiesta or any other online game online. You should be able to find Diamond Fiesta on any online casino that offers games manufactured by
Real-time gaming. Some of the online casinos we recommend are Uptown Aces, Soloto Cash, Slots.LV, Bovada, and Ignition. These are the reliable casinos that offer Diamond Fiesta and every other game by Real-Time Gaming. You can pick the one with the most attractive signup bonus, register, and start playing.
The Verdict
As you can see from our Diamond Fiesta slot machine game review, it is one of the exciting games for players who love horror and holiday-themed games. Even if you're not a Mexican, you can enjoy the Day of the Dead themed game. This is especially so if you love Halloween-themed games. The medium volatility of the game is complemented by its high 96% volatility. You don't need to start big. You can start by betting as little as $0.50 then slowly work your way up and you master the game. You're sure to have a fun-filled experience with this five-reel video slot machine game.