When it comes to playing slot games, you don't need too many special skills because you will usually win or lose based on luck. However, your chances of winning will be higher when you use some machines as opposed to others. One of the best slot machines with great odds out there is the Dr. Winmore. Dr. Winmore is a slot machine powered by Real-Time Gaming, one of the oldest slot machine developers in the space. Like many other slot machines from popular brands, Dr. Winmore has 5 reels, and 30 paylines. It is a low variance video slot machine and the jackpot is 300 times worth your stake.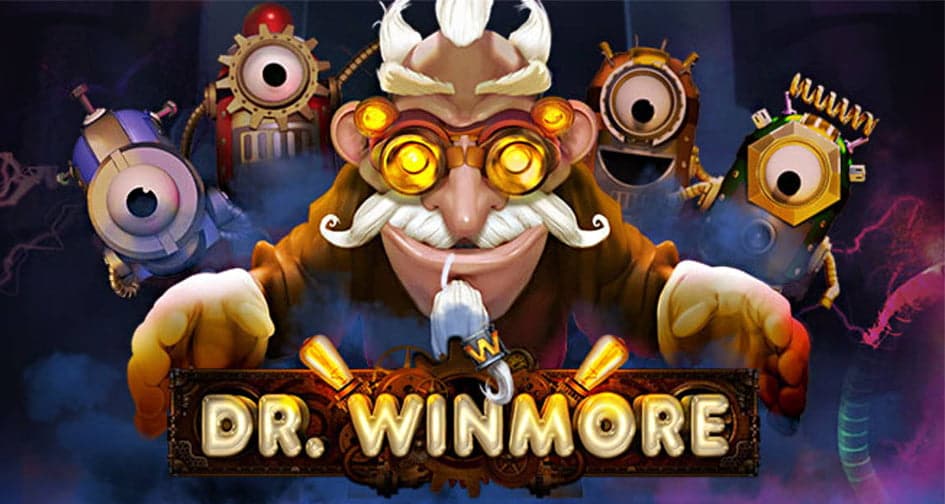 What You Need To Know About Dr. Winmore Slot Machine
Dr. Winmore has one of the most interesting themes in the video slot machine world. The storyline follows a scientist known as Dr. Winmore and his assistants. They all work together to create an elixir that makes people rich. The background is colorful and extremely attractive. Like many other slot machines by Real-Time Gaming, Dr. Winmore uses a Cluster Pay system. With the Cluster Pay system, new symbols drop from the top of the machine each time winning symbols are removed. Each time you get the same symbol at least four times, the Cluster Pay system will kick in. This increases your chances of winning more than once in the same spin. How cool is that?
The Cluster Pay system of Dr. Winmore can be compared to the bonus rounds and Free Spin features of other slot games. This is because it doesn't actually have a bonus feature or a progressive jackpot. Each time four symbols appear either vertically or horizontally adjacent to each other, the Cluster Pay System is activated in multipliers of 2,3 and 6. What this means is that the first Cluster Pay multiplies your win by 2, the second multiplies it by 3 and the third multiplies it by 6. The cycle will keep going until you can no longer reach a winning combination. This is the first slot machine by Real-Time Gaming that started using the Cluster Pay system.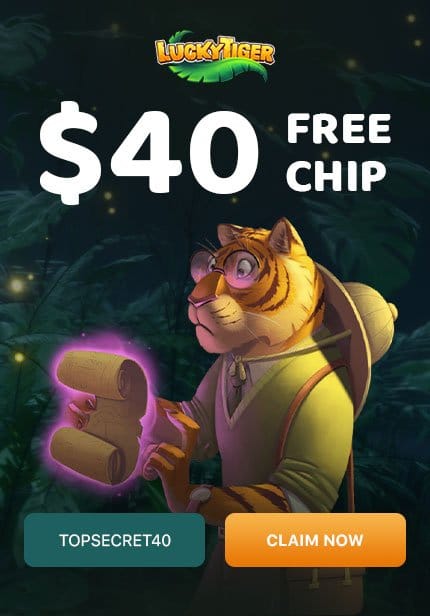 When you use this real money slot machine, the Multiplier will increase as you play on. The Multiplier wins can go as high as 6x and the Wilds and Cascading reels are simply amazing. Unfortunately, the jackpot amount for this game isn't too high. The good news is that the hit ratio is 22% and the RTP rate is 96%.
Dr. Winmore Slot Symbols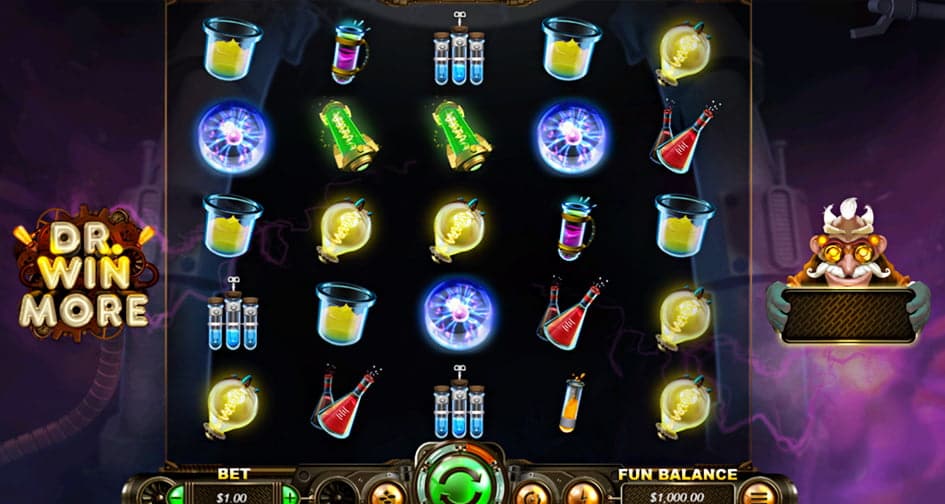 Like other slot machines, Dr. Winmore has different categories of symbols which are as follows:
The standard symbols on Dr. Winmore pay out players when they get symbol alignments of 4, 5, 6, 7, 8 and more. The standard symbols of the game are Blue Tubes, and Orange Tubes. When you get Three Blue Tubes during a single spin of at least eight, you will get 75 coins. On the other hand, when you get eight or more Orange Tubes, you will earn 50 coins.
The mid-level symbols for Dr. Winmore are the Yellow Jar, Red Beaker and Purple Tube symbols. Just like the standard symbols, the mid-level symbols pay for alignments of 4, 5, 6, 7, 8 and above. However, what you will earn from getting these symbols will be higher. When you get up to eight Purple Tubes, you'll earn 150 coins and when you get more than eight Yellow Jars, you will get 125 coins. The lowest points you'll get with the mid-level symbol is 100 coins for Red Beaker.
If you want to get the highest rewards, you should aim for the high-payout symbols which are the Blue Bulbs, Green Tubes, Light Bulbs, and Plasma Bulbs. You'll get paid for 4, 5, 6, 7, 8 and more symbol alignments. You will get 500 coins when you earn at least eight Plasma Bulbs. For the Light Bulbs, you'll get 300 coins and for Green Bulbs get you 200 coins.
There are 4 Robot symbols on Dr. Winmore and they appear randomly with each one having a different meaning. If you get the Blue Gear Robot, one row on the reels will clear up and if you get the Yellow Gear Robot, one column will clear out. For the Red Gear Robot, the adjacent symbols will be removed. They increase your chances of getting winning combinations.
Dr. Winmore doesn't have scatter symbols like many modern slot machines but this isn't really a problem. It has an autoplay option that allows you to earn on the go because the reels spin automatically no matter where you are. All you have to do is activate it. You can also speed up the gameplay and access details about it before or during each game. You can use the machine with as little as 10 cents. You can start your first wager with 10 cents and increase it to 25 cents when you become more used to the game.
Everyone who loves mad scientist themed games would enjoy playing slot games in Dr. Winmore's laboratory. There is a mobile version of the slot game that you can download and use on the go. You can create great portions with the scientific mixtures on the reels. The slot game has high definition graphics that will blow your mind away. It is much different from the traditional slot machines you will typically find online and it has no paylines. This means that there is no fixed price for winning, the price can change from time to time because of the Cluster Pay system.
How To Boost Your Chances Of Winning
When Real-Time Gaming started developing slot machines, they had paylines like normal slot machine games. Eventually, Dr. Winmore was released with more features including the Cluster Pay system that presents players with many different ways to win. Like other slot machine games, winning on Dr. Winmore is primarily based on chance. The good news is that you can follow some basic gambling tips to increase your chances and maximize your winnings. As stated above, Dr. Winmore has an RTP rate of 96%. So, this already gives you an edge. Some of these tips are as follows:
Bet In High Denominations
It's always a good idea to start small. However, if you want to increase your chances of winning big, you should use the highest denomination. You can place a single bet of up to $25 on Dr. Winmore. It starts from $0.10 and ends in $25. The higher the denomination, the higher the possible payout. So, stick to the maximum bet.
Make Sure the Casino is Trustworthy
There are many online casinos out there but not all of them are trustworthy. Some of them are created strictly to scam people by collecting their data and accessing their credit card details. If you happen to create an account on such a casino, you will most likely be duped before you even have a chance to play your Dr. Winmore game.
Create a Budget and Know When to Stop
Every smart gambler works with a budget because it's a good way to gamble responsibly. Since Dr. Winmore has an online version, it's easy to get addicted to gambling. Depending on how much you earn, you can keep $10 ro $15 daily or even weekly for slot machine games. If you're a high baller, you can make one big spin of $25 daily. You can also decide to use $25 a week. It all depends on what you want and what you can afford. Just make sure that you stick to your budget.
The Verdict
Dr. Winmore is one of the best slot machine games out there. The great Cluster Pay System gives players several opportunities to win. Each payout may not be high but you will get several chances to win. There are many reliable online casinos that have the Dr. Winmore slot machine game. Pick one great one and start enjoying the game.