Game Details:
Available at: RTG Casinos
Game Type: Slots, Mexican Wrestling, Sequel
Mobile Accessible: Yes
Requirements: Internet Browser, Ad Blockers must be disabled
Lucha Libre 2 Review
Get ready to dust off your wrestling mask and hop back in the ring with Lucha Libre 2. This action-packed sequel to the famous Lucha Libre slot game is now available for all slot enthusiasts to enjoy. Jump back in the ring and watch Nacho Friend and Taco Malo wrestle it out as you spin to win. If you have played the first game, then this playthrough will be quite familiar. This time around the game has had a few major upgrades that make the overall play an entertaining treat.
Lucha Libre 2 is a five-reel, 30-payline video slot game which is themed off the very popular sport of Mexican wrestling. This game is filled with fun, rewarding features such as the 10x multiplier or the free spin feature. This slot gem is fast, fun, exciting and continues the entertaining playstyle of the previous game. Fight, kick and jab your way to a victory and get money while you do it.
Game Symbols
With five reels, three rows and an offer of 30 different paylines, this game has much to offer new and old slot players. The symbols are themed after the same type of items and people one would find in a wrestling stadium – including a very angry-looking ref. You'll also see some very yummy-looking jalapenos, more tequila, and Nachos of course. All the symbols will play from left to right, and the payouts will only occur when there are at least 3 of a kind. After playing the first slot game, you will note similarities in some of the symbols chosen for this sequel.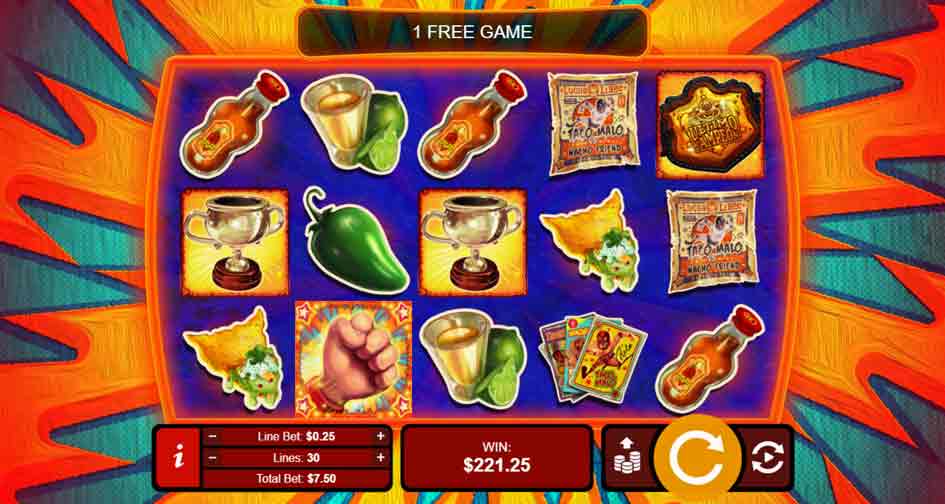 Special Features
The game offers you the chance to pick certain moves to throw at your virtual opponent; this occurs when you land at least three mucho mayhem scatter symbols. These symbols are shown as luchador masks on the reels, once this appears you will get to choose between three exciting fighting moves that will assist the wrestler in defeating their opponent. Depending on the fighting move you selected, you will get a certain amount of free spins along with a win multiplier. This feature is great fun and the sound effects amp up the fun factor of this game tremendously.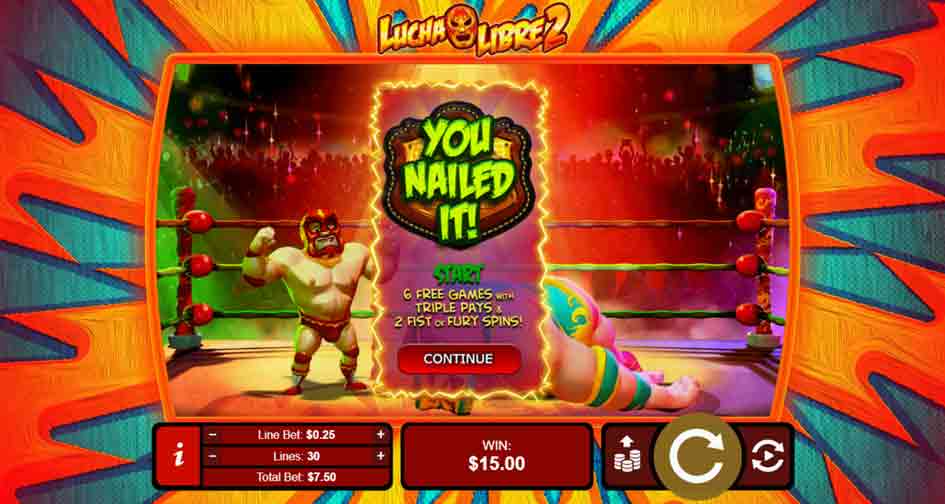 How to Play
Once the game begins or loads, you have the option of selecting how much money you wish to bet. You can change this amount throughout your time playing. The feature to be aware of is the auto-spin function. This function can help you maintain a regular gameplay speed, and it also helps when it comes to the progression of the game. Sometimes things can be a little slow, but with the auto-spin function you can bet low until you start activating those special features, then you can turn the tables and start going big with your spins. Not everyone utilises this function, but pro players know the benefits of a gameplay method that uses all there is to offer. It is important when you are playing slots that you are comfortable and that you are able to get the most out of each gamble. Ensure you spend time looking at the customisation options that each game offers for a more unique in-depth gambling experience and remember to keep an eye on your balance at all times.
Pros
+ Updated graphics
+ Packed with the same enjoyable features
+ Fun sound effects
Cons
– Not everybody enjoys Mexican wrestling
– Slow progression
Conclusion
This is an enjoyable slot game that has made significant improvements since its predecessor. If you are a fan of Mexican wrestling and Luchadore action, then this is the slot game for you!
Check out casinos we love and try the game out with some great bonus!